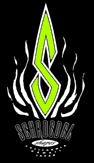 Schroedel SurfBoards feature a full line of custom surfboard's and pre-built surfboard design's that are proven winner's in all types of surfing condition's!
Wheather your surfing 2 foot mush to 25 foot Monster surf Schroedel SurfBoard's have been ridin around the world for the last 28 year's from the West Coast of California to the Pacific Island's of Hawaii, from Fiji to Indonesia, from Japan to Australia and back around to the Atlantic Seaboard,we build the surfing equipment you need!
28 year's of surfboard shaping and 33 year's of surfing and surfboard design experience guarantee you will have the fun and the confidence you need in your surfing equipment!
Click through our Surfboard Showroom to see what we can do for you!
Ordering a surfboard is easy and efficient so feel free to play around with the Surfboard Order Form and let's get busy designing your new surfboard!