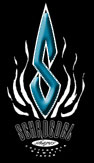 This shape is focused on the Experienced Master's who don't want a longboard and don't want a twig !
For the the surfer who love's paddle ability, mixed with "I can ride any wave with this thing" attitude !
Pack your LB away and move on to a shape that carry's you through the water and winter and is fun to ride.
This shape is soooo smooth and holds very well with its continuous rocker and tighter tail area and a bit fuller nose for early glide entry.
The rails are medium low and semi soft in the center moving throughout the tail area,with a sleek low profile foil.
Tail's can be slightly pulled in for control in bigger surf when you order a custom.
You can ride this board anywhere in the world up to 8' or so then you better get more sleek den dat.
Available from 7'6" to 9'2" Round PinTail or SquashTail
Width's are 20 1/2" to 21"+
Thickness's are varied from 2 5/8" to 3 1/4"
Most are 2 3/4" to 2 7/8"
Custom Available